*** March 4, 2001 ***
updated 2pm
Wow! Has it really been 2 months since the last update? Geez. Well, not that much has been going on. We've had some nice weather here during the month of February but it mostly happened on days that Rich and I were working so not much new on the landscaping front.
We're actually trying to get a few things finished around the house now inside - like the rest of the unpacking, hanging up some pictures, and working on the whole house audio.
But, I thought I'd shoot some pictures today of some of the changes that the house has undergone. Keep a watch out this spring for the landscaping projects!!! We're hoping to do "castle wall" stones around the flower beds first and then Rich is going to turn me loose on planting flowers. :-)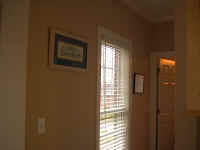 Some pictures now hanging in the hallway to the office.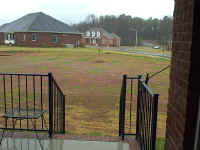 LOOK! See that green stuff? It's ruining my red clay yard! hehe... No, actually we were happy to see the green stuff as we had figured that all of the grass seed had washed away during the monsoon of December or had been frozen by the winter cold. Rich dumped a bag of seed on it this week too so this wonderful slow rain we've had the last couple days will help that along.
It's a bird feeder! We got this sometime in February. Not long after it went up we had several finches and some doves start coming. Need to get our bird bath in soon.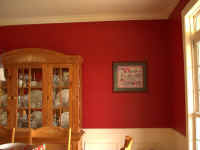 More hanging stuff - this one's in the dining room.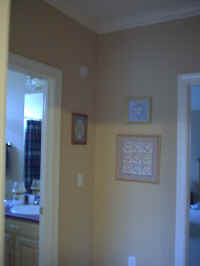 In the hall by the bedrooms.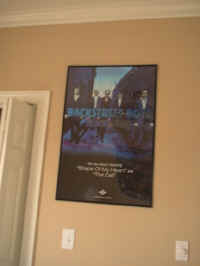 This is in the room that we're calling the "library" since it has ALL of the bookshelves except for 2. Rich let me put up a couple Backstreet Boys posters after we saw this Bon Jovi fanatic thing last weekend - he decided that I wasn't insane after he saw some of the folks on that and would let me put up a couple things. :-)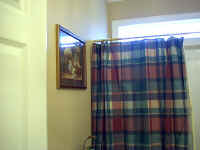 In the hall bath, more hanging stuff.
Stay tuned! The next 2 weeks we won't get anything done much but hopefully the weekends of Mar 17 and 24 will be good weather for working outside.