*** March 18, 2001 ***
updated 4pm
Well, this has been a fun weekend at the house!
First off, last Tuesday after we got back from Vegas Rich went and picked up round #1 of the castle wall block from Lowes. Then, he talked Mike into coming over Saturday morning and helping. Course, Saturday morning turned out to be cold and cloudy but the guys got to work about 9am. And a little under 4 hours later, we have bed #1 finished.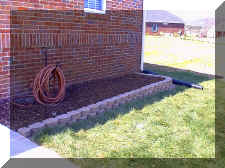 Looks good I think!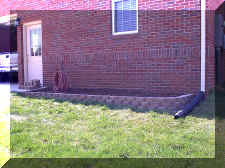 They used the smallest block size for this one since it's a fairly small bed. But, for the front 2 they'll probably move up to the next size block.
And, just a grass update - it's not looking bad but we still have a ways to go out in the backyard. The sod in the front and side by the road is looking wonderful! Rich may have to mow it soon.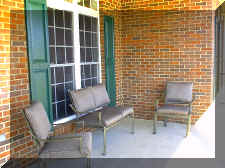 Our Sunday project was going looking for patio and porch furniture. And as you can see above, we found some for the front porch. :-) They also make swivel patio chairs and a table in this style but the Lowes here in Madison only had one swivel chair. SO.... if we get inspired soon we'll trek down to the one on South Parkway and see if they have more.
Stay tuned! Won't be long until we start planting stuff!