*** April 6, 2001 ***
updated 4/7/01 9am
Yahoo! We're having awesome spring weather so we've been taking advantage of it.
First, Rich finished the first big bed out front on Sunday even though it was still cold but sunny.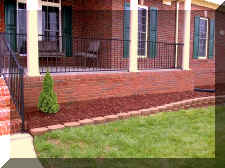 Looking good!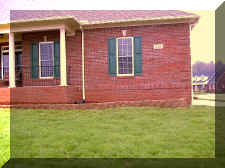 Then, Thursday night, we hit both Lowe's and Home Depot and scoped out what kinds of flowers they had. Came home with round #1 from Lowe's and then I went back to Home Depot for round #2 on Friday night after work. And, we got started with planting!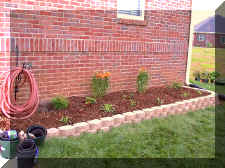 Here's the little bed by the driveway. On the back row, we have dwaft nandinas, "hino crimson" azaleas, and asiatic daylilies then monkey grass on the front row. Eventually, I'll put a couple mums and some tulips and crocus in here.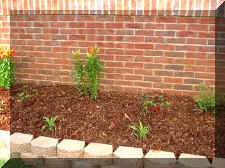 A closeup of some of the flowers.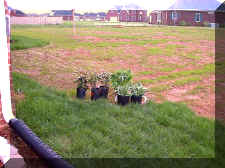 These are some hosta and japanese cleyara (?) that will be going in the beds out back.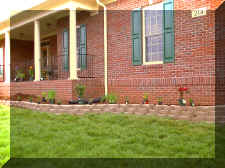 Flowers out front in position and waiting to get planted. There's a lot of stuff here. More asiatic daylilies, then the yellow "Stella D'Or" lilies, a different shade of azaleas "midnight flare", golden euonomous (?), oriental iris, and little pots of monkey grass. Will probably be adding a some mums, a rose bush, and more tulips or buttercups. Oh, and more lilies or hosta from Mom's place when I can get up there to dig 'em up!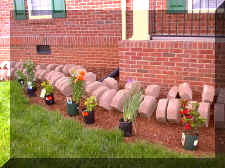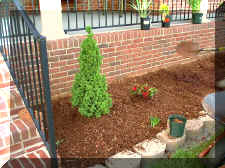 A few of the plants actually got in the ground out front last night. Rich had to level out the dirt in the upper half of the bed and move it down to the other end so that took a good while.
Saturday's adventures, include more rock wall and maybe some more planting.
Stay tuned!