*** April 8, 2001 ***
updated 7:30pm
The beds are finished... for now! ;-)
Well, the rain that was in the forecast went away and it didn't get too hot so we got the rest of the beds out back finished! YAH!
Here's a look at "Orange Passion" which got planted several feet off the patio and near the bird feeder. The plan is to eventually have a flower bed here with the bird bath... but that's another weekend.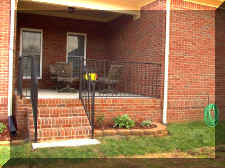 The small bed near the patio - from left to right Japanese Cleyera (that's the right spelling) and then 2 varieties of hosta.
The other bed has those 3 things from above along with the variegated privet, the florida azalea, the honeysuckle bush, and one of the Golden "E" things... I'm not spelling it again!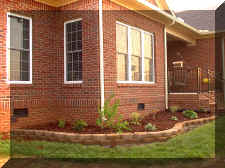 Another look at the big bed out back.
Then Rich walked across the street to get an updated shot of the front of the house. Yep, that's me walking towards the driveway after clipping some roses.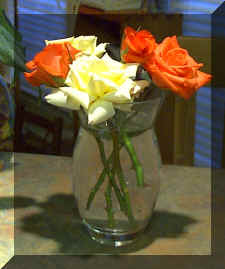 My roses! "Peace" is the cream color and the orange one is "Orange Passion" (duh!).
That's all of the landscaping for now. Course, we're still trying to get grass to grow in the backyard and as soon as we get closer to May we'll plant some of the typical summer flowers - begonias, impatients, etc. Rich has to get my hanging baskets setup on the front and we may do one out back.
Stay tuned for more adventures of the Johnsons' landscaping projects! :-)