*** August 18, 2000 ***
updated: 8 pm
Well, they started a little on the roof, and did a little more work on the outside framing and porch.
WE headed to Decatur to pick out a new front door as the Peachtree hinged sidelite that I love was just a thousand or so over the budget. Really. And, considering that it might get used 10 times over the life of the house, we decided to go for the mahogany door which did fall under the budget price. The link above takes you to see the door except that ours will have full length glass sidelites and the stain color may be different. While we were there, we met with the appliance guy and looked at our GE Profile appliances and the whirlpool tub. The tubs will be in probably within the month. The front door may be in within a couple weeks.
---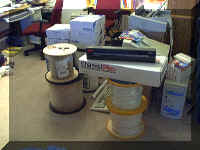 Before we get to the pictures of the house, we thought we'd share a couple of the apt. This is the stack of cable and equipment for the phone, cable, network and video splitting for the new house.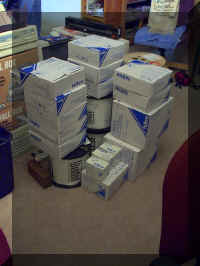 And, this is the stack of in-ceiling speakers, volume controls, and more cable. The cable will probably go in here in about 2 weeks, right before we head to Philly. Not shown is the network patch panel. Now to the house!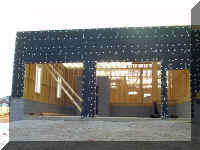 Tar paper went up around the garage entry.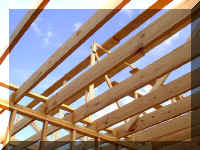 Some work that's being done on the roof area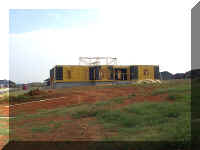 A better view from the back corner of the lot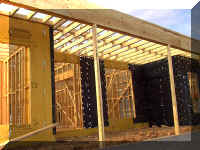 A view of the front porch today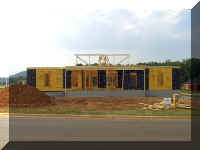 And, the front of the house. :-)