*** September 4, 2000 ***
updated 8pm
Rich wires the house... with Mike and Dad's help! THANKS! :-) It was a long day for them but they got it done, with just a little clean up left to do....
---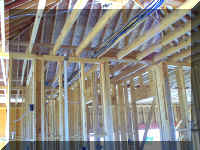 See the colored cables (blue, yellow, and black)? Those are the ones we're running... along with white cables for the speakers.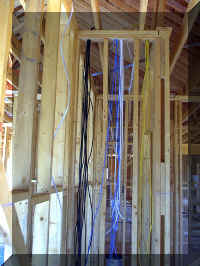 This is where the cables come to - a spot in the closet in the office. This is where the patch panels will be.
Just one of the many drops in the house - this is in the master bedroom.
The "Colorado Slate" Formica (pic from Saturday 9/2) is now going in the Powder bathroom off the kitchen and another slate is in the kitchen... I'll try to get pics up tomorrow of the others that we picked.