*** September 5, 2000 ***
updated 8pm
Well, the framers returned and started on some of the final work. Lots of clean up and some more roof supports inside were put up.
Rich and I met at the flooring place at lunch and finalized the interior paint colors, the carpet, picked a hardwood (waiting on pricing) and he picked a laminate for the office.
---
This is the wiring closet after they got thru with stuff last night. There is NO MORE ROOM to add any more cables. :-)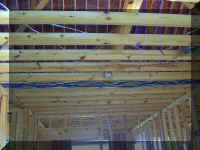 Another shot of ALL of the cables running overhead in the kitchen.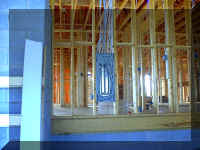 This is new today - the electrical wiring panel in the garage.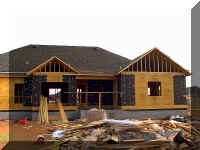 Evidence of the framers' work - the gables have additional wood.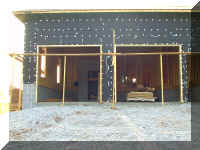 And, they framed the outside of the garage doors here. Looks very nice.
We're expecting the roofing crew tomorrow and could see windows in by Thursday. :-)
--- The blue chip on the left is our final decision for the master bath. I picked out a pretty decorative tile that will go around the tub (mixed with white tiles) that this goes with well. It's called Brittany Blue and is by Wilsonart.
The tile above on the right is for the hall bathroom. It's called Heather Legacy and is also by Wilsonart.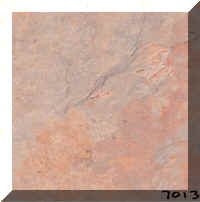 And this tile is now the kitchen and laundry room countertop choice. Called Santa Fe Slate by Formica. It's also the tabletops in Tellini's here we noticed tonight. ;-) The Colorado Slate has been moved to the powder room.