*** September 9, 2000 ***
updated 7pm (9/12/00)
We have a guest photographer today! Liz and Emily dropped by the house and shot some of the sights for us... THANKS!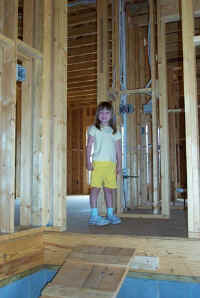 Here's Emily in the entryway from the garage.
The arrival of the garage 'walk thru' door and the back patio door (seen behind it)
A much better shot of the front door (still not stained yet)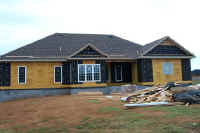 The framers have removed much of the 'catwalks' and now have the windows in place that were left out earlier...
They put up the scaffolds out front to work on the final bits here.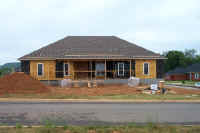 And a front shot of the house...
Hopefully the roofers have been there this week... :-)