*** September 20, 2000 ***
updated 7:30pm
Exciting things happened today... we go out to the house and we have 7 pallets of brick (approx 7000 bricks)! Yah! Course, that's only a fourth of the bricks needed so we're guessing more will come...also, while we were out there, we had a little popup thundershower and after it finished, and the sun was shining, there was a GORGEOUS double rainbow in the east! Got a picture of it, course you can only see the main rainbow. Rich also ran the last speaker wire tonight for the surround sound system in the great room. The plumber was out once again as well to test the water pressure. On to the pictures.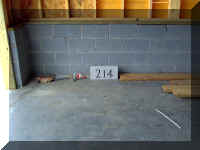 The house number also arrived. Mortar is sitting out front.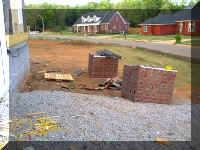 2000 bricks. :-)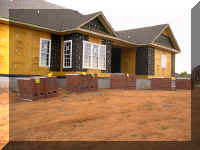 Another 5000 bricks!

The full rainbow and you can kind of see the faint second one over on the far left, right above the trees.
Kind of interesting too as this is about the 5th rainbow that we've seen in the last month or so.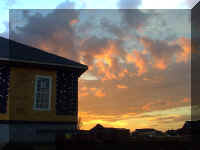 A beautiful sunset. :-)