*** September 27, 2000 ***
updated 7pm
So, our brick people have taken off for the Bahamas... hehe... not really but it seems that way. We're guessing that they are waiting for the outside trim guys to finish so that they don't get paint on the brick. Good idea. And, it looks like they put a second coat on most of the trim outside today.
In other news, the gas log fireplace is now in and the vent in place. YAH! And, walking around the house, I noticed some very nice looking fescue poking up in the front yard. Guess the rains and cooler weather made that happy. Too bad we don't want the grass yet and that it'll get messed up here in another month.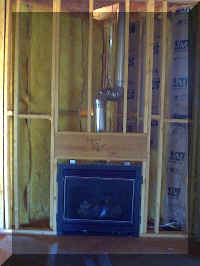 The fireplace. Yes, the photo is blurry so I'll get a clearer one tomorrow.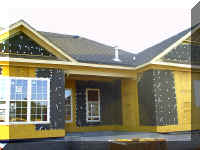 The vent out the back of the house. You can also see the trim paint job. And the pile of bricks in the same spot they've been in the last few days. ;-)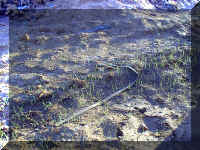 And, here's the new grass in the front yard. :-) Rich might have to mow before too much longer... just kidding.