*** October 19, 2000 ***
updated 6pm
Well, more dirt was moved. The septic tank and field lines were covered up and some other trenches were dug for both the water supply and the power. The guys were still out working (maybe waiting for an inspector) so we didn't get a lot of pics out back.
In other news, there is a story about the whirlpool. A couple months ago, I went to Park Supply to pick out a whirlpool tub. Not a jacuzzi, but a generic model. So, today we get a call from Park Supply. Apparently, the call came today to make arrangements to bring the tub out soon but they didn't order the tub and that model wouldn't be in until Nov 3 - too late for whatever and whenever the trim/plummer/whoever wanted it at the house. They recommended going with the same model in the Jacuzzi brand. Which made me happy anyway. So, I hung up the phone at noon thinking we would see the tub sometime next week. HA!
We get out there at 5:10pm and the tub is in the kitchen! Talk about fast. So, now we'll see why they needed it so fast. Expect to see some happenings with this next week since Nov 3 was only another week away.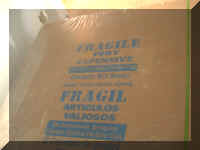 We got a kick out the warning on top of the box.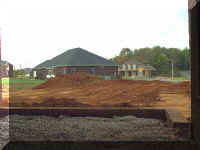 The view of the covered field lines from the great room.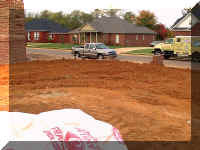 More dirt moving in the front yard.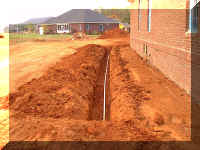 A water supply line.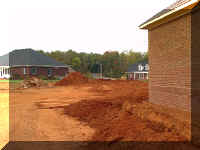 Another view of the backyard and the now gone piles of dirt.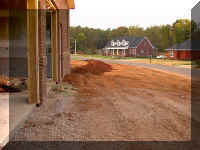 The trench for the power line.