*** October 30, 2000 ***
updated 9pm
Well, there's not a lot of pics today for what all was done. The end of daylight savings time kinda made the camera mad and so we only got it to take 2 pics. Will try to go out there Wednesday and make it during daylight hours for more pics.
So, what all happened? The trim guy was back and has finished up pretty much all of the molding. The chair rail in the breakfast area, the chair rail and picture frame molding in the dining room, and the extra molding for the bedroom were all put up today.
The front door also got stained but the camera refused to take a picture of it.
Also, the closet doors (the folding ones) were put in place today.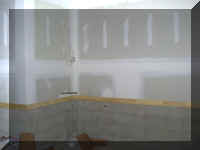 We also got a piece of molding in the garage where the stucco/block meets the drywall.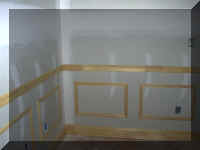 And, this is part of the molding in the dining room. :-)