*** November 3, 2000 ***
updated 7:45pm
More painting! Whohoo! No painting in the dining room yet however. And, the tile from Lowe's for the floors arrived.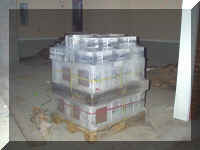 Here's the big stack of tile. This is the 2 colors of tile for the kitchen, laundry and bathrooms.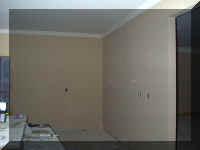 More painting inside today! This is one corner of the kitchen.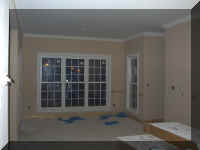 And the breakfast nook.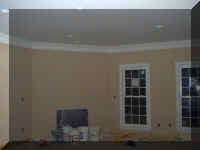 The great room looking towards the fireplace.
And, a shot of the little window in the hall bath.
Now, there was an big interesting looking van with no markings on it parked out back tonight near the patio. Couldn't figure out what or why it was there but Rich had a thought that it COULD possibly be holding the cabinets and that they may be out tomorrow to start that installation. NOT SURE but just a thought. It was big enough to hold them and if I were the cabinet guy I'd think it was easier to come in off the back patio than have to cart them thru the garage. We shall see....