*** November 12, 2000 ***
updated 11/13 8:30am
Well, believe it or not, there was something going on at the house today! One of the "detail" guys was out there putting the locks on the doors and we lucked up and got there before he left so we got our keys. YAH! Rich went to dig out the speaker wires from the holes in the ceiling and get them ready for the speaker installation. I went with posterboard in hand and made templates for the tile backsplash in the kitchen. And, I took a few more pics of the house.
Also, as we were leaving the bobcat showed back up but don't know if they worked in the yard any. It's supposed to start raining again on Monday.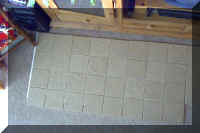 The backsplash plan for over the desk area.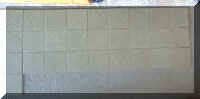 The rest of that that will be on the wall with the microwave.
Another shot of the "red room"...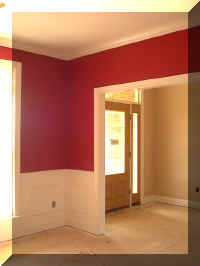 Looking into the foyer....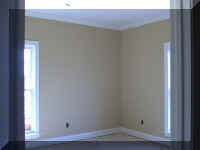 One of the bedrooms.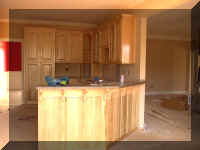 The kitchen!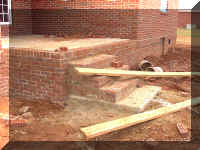 And a good daylight shot of the back patio steps.