*** November 30, 2000 ***
updated 7:10pm
Well, some work was done today... The tile guy has left the country! ;-) Someone came, seated the jacuzzi and put the faucet in for it... then the painters were back painting the columns outside and doing a final on some other trim, and the landscape person came and barked areas where my flower beds are going. SO, maybe we'll see sod tomorrow. And maybe the tile guy will reappear...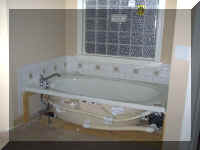 The only pics I took were of the jacuzzi... I was actually fairly sad until I saw this and realized that someone had indeed worked in the house today. BTW, we are at t-2weeks! They'd better hurry up - I'm putting the Christmas tree up on the night of the 15th! ;-) And, my wreath from Sherry is going on the front door! YIPPEEE!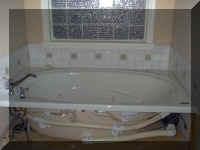 I was happy with the way it's turning out so I took 2 shots. There's gonna be a board across the front that will match the cabinets.