December 6, 2000
updated 8pm
Another good day! Lots of work! Carpet installed, sod laid, and the tile guy was back to grout away. Rich also met with the guy who's doing the closet hardware and bathroom things like towel racks and toilet paper holders. Things are still a go for closing NEXT FRIDAY. WOW.... :-)
Oh, and Rich took A LOT of pics. Don't know where he gets that from?! ;-)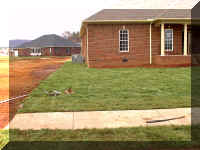 SOD! And, it's green! :-)
A good front shot!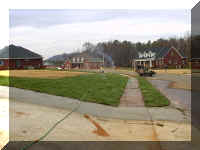 We have sod all the way down the side of the lot (it's in the rules that we had to)...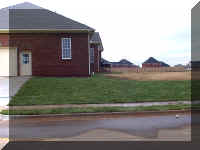 More sod... Can you tell we're pretty happy about that? ;-)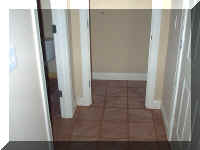 Grout! This is in the little hallway coming in from the garage.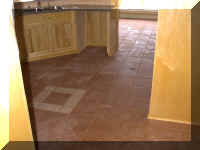 Grout in the kitchen. By the way, I realized today why I picked this red tile: so when the red clay from the yard gets tracked in, it won't matter cause it will blend right in. :-)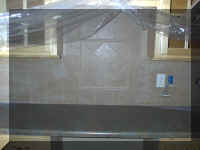 Grout on the backsplash...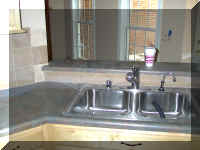 One of the 3 tiles that's left in the kitchen. He broke too many bull nose tiles so we've had to go order a few more.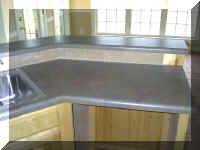 The other bullnose is needed at the end by the dishwasher here.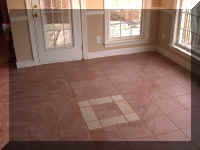 More grout. :-)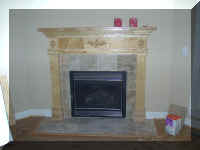 Grout on the fireplace.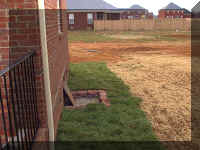 More sod out back and a daylight view of the thing they did by the under house entrance.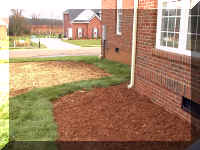 More sod and you can see one of the flower beds.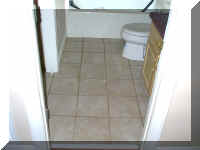 More grout - this is the hall bath.
CARPET! :-) It's a light creamish/tan berber by Shaw.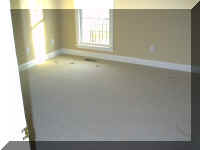 Another view of carpet.
Carpet in the master bedroom.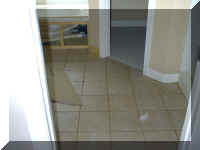 Grout in the master bath.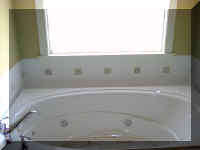 Grout around the jacuzzi. :-)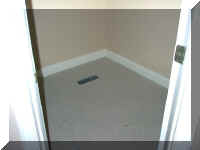 Carpet in my closet.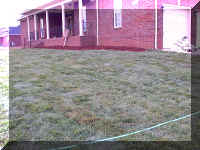 And, one last shot of the sod out front. :-)