*** December 9, 2000 ***
updated 4:30pm
A much more productive day happened at the house today! :-) Rich went out about 9:30am and met with our builder for a little bit and then he went to work on the wiring closet. I got out there about 11am and helped him hang the board up in closet and then watched while he worked on some of the other things that go on the board. Both the right dishwasher and stove also showed up! YAHOO!
While I was gone to get lunch the plumber came and started work on the dishwasher, the disposal in the kitchen, and other various plumbing things that needed to be finished.
Rich got about 13 of the network jacks ready and tested. He also worked on the stereo input jack for the in-house audio system. And, tomorrow he'll be back out there working on some more stuff.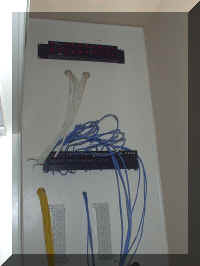 The top part of the wiring closet board. The top panel is for the speakers and the white cables run back to the speakers in the ceiling. The blue wires are network and run to the network patch panel.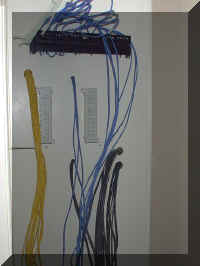 Another look. Yellow cable is for phone. Black is the cable.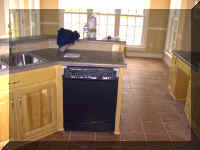 Look! It's the right dishwasher! YAH! :-)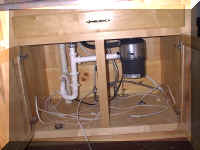 Look! It's the disposal that we hadn't planned on! The sink was fitted for one and the electrician thought there was one and wired for it so we have a disposal.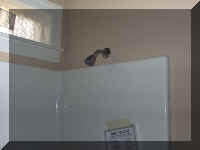 Look! It's a shower head! Yah!
Look! It's the shower head in the master shower! :-)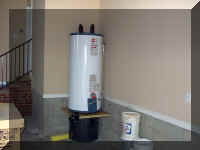 Look! It's the hot water heater hanging out on it's too small stand which is the reason it's on plywood. Hopefully there will be a new and bigger stand for it showing up later next week.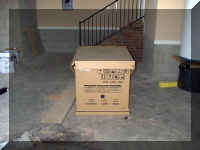 Look! (are you tired of the "look!" yet?)
IT'S THE STOVE! And, it's the GE that I wanted. :-)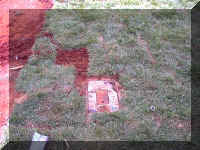 And, they buried the pipe after they hooked the water up to the house. :-)
On the leak test, apparently everything was good except for something with the jacuzzi. But it should be fixed early Monday.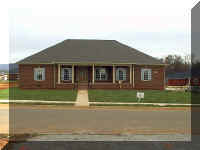 Look! :-) It's a new front shot of the house with shutters! Looking good but will be better when the painters come paint them the green that they should be.
On a final note, this time next Saturday Ann & Rich will be standing in her new house amidst a pile of boxes and listening to Christmas Carols on the house audio system. YAHOOOOOO!!!!! We CANNOT believe that this time has flown by but are very glad to be near the end of our apartment time.