*** December 13, 2000 ***
updated 8pm
WHOHOOO! Can we say warm fuzzy feelings? I knew we could. I finally have them! So much so that I took the whole memory chip of pics tonight but I've only picked the good shots for up here...
Lots of news though. First we have power! :-) It was on by the time Rich got out there this morning. Then, the guy came and got the hot water heater going along with the HVAC (both gas) so we have hot water and hot air! Next, the refrigerator was delivered and it's the right one. :-) Then, the phone person came and got us two lines installed and working nicely. So far, Rich has only found 1 phone jack that wasn't cooperating. The cleanup guy was out cleaning windows today. The electrician was working on the things that weren't working when the power got turned on and has most of those things fixed. Some more touchup painting was done. Rich worked on volume controls and phone jacks. And probably several other little things happened. But all in all, it's getting to be a livable house. Tomorrow will be things like mirrors, closet hardware, etc.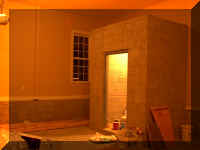 Look power and lights in the garage! The garage doors work too! :-)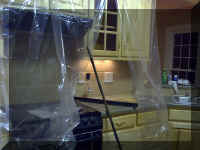 The kitchen and one of the undercabinet lights.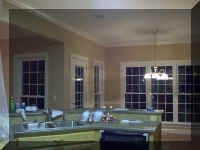 Looking towards the breakfast area.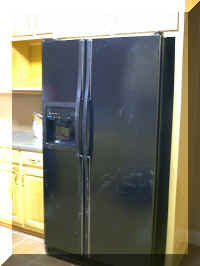 The refrigerator... a little dirty right now. :-)
It does fit but I can't get my pinky in the space between the frig and the cabinet.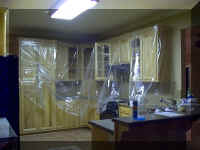 Looking back towards the cabinets.
OOOOHHHH! I like the great room with the recessed lights! :-)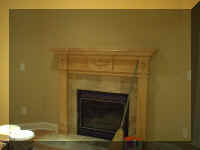 The mantle in light!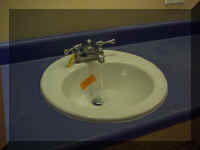 Running water!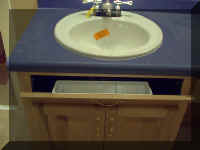 The flip out things have the trays in them now!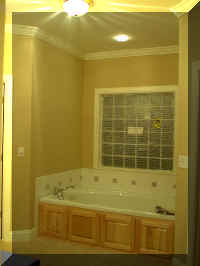 A look at the jacuzzi with lights now!
2 days to close! Now, I'm off to go pack more!